2022 – A Year in Travel revisits the best of our family travel in 2022. We recap Morocco, Thailand, Mexico, San Diego, and Canada's Maritime Provinces.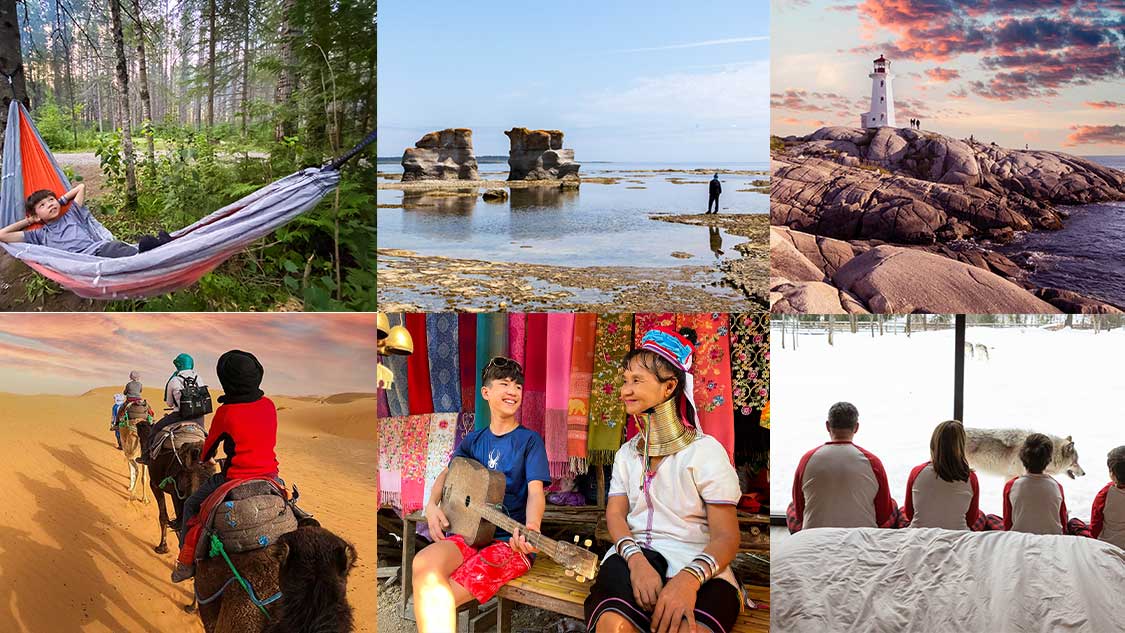 Oh man, what a ride!
After a crazy two years of lockdowns and a grand total of zero new countries added to our list of inspiring destinations in 2021, we had low expectations for travel in 2022. The truth is, with COVID still a massive deal, and rolling lockdowns happening around the world, the world of travel was still on a rocky road.
It's not to say that nothing great happened during our travels in 2021, but we kept everything local with travels throughout Ontario and into Quebec here in Canada.
We had high hopes for 2022. There were travel plans that were canceled and we hoped to have rescheduled, but all of that was done on the idea of "tentative planning."
Our Family in 2022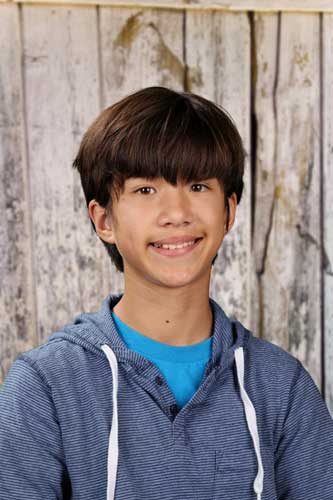 2022 was a big year for the Wagar family. C who was mid-way through his first year of rep hockey with the Brampton 45s was giving us a taste of what it means to work around our kids' schedules as they aged. Not that we were complaining. Hockey is a sport that we all love, so we would find a way to make it work.
C was making his way through 5th grade, and in September moved into a grade 6-7 split with the new school year. In September, he continued his hockey, moving up a division and continuing on with a great group of kids and two very supportive coaches.
D was in 3rd grade enjoying the relaxing fun of house league hockey. He spent his spare time drawing and break dancing. Come September, D decided that he would make a run for rep hockey as well and joined his brother as a member of the Brampton 45s in the organization's U11 division. We got another surprise when I ended up joining him behind the bench as an assistant coach.
I had never expected our lives to get taken over by sports. But pretty quickly, with two kids in high-level sports, the hockey arena became a second home for us all.
Christina changed positions in her company and travel for work has become a huge part of her schedule. During 2022, she would jet off around the world for a few weeks at a time, bouncing from conference to conference.
Even though she has been on the road a lot, our family travels were never far from her heart. Her spare time was spent looking up amazing new destinations for family travel in 2022. She was absolutely insistent that we get back to international travel this year, and thanks to her dedication, we ended up visiting six countries and had some amazing domestic adventures as well.
As for myself, I was settling into this "blogger" life that I fell into a few years back. My Wandering Wagars website was welcoming over 150,000 family travel lovers per month to its pages, I was winning national awards for both my writing, my blog, and my photography from organizations such as the Travel Media Association of Canada, and I was speaking and educating travel pros at for webinars for organizations such as the Society of American Travel Writers.
I launched two new websites with my business partner Christopher James Mitchell of Traveling Mitch a few years back, and both Ultimate Ontario, which is focused on travel in my home province of Ontario, and We Explore Canada, were beginning to see massive gains.
Another project of mine, Flavor the Globe, which was focused on culinary travel experiences, was also starting to bare some fruit. Life as a blogger, editor, photographer, and writer was starting to look like the right decision.
Our Family Travels in 2022
Let's face it, our family travel in 2022 got off to the same start as 2021 ended. There was loads of uncertainty about the state of travel. While we had big plans for international travel, we weren't even sure if we'd be able to see family due to the winter resurgence of the pandemic.
But our hopes were high and we quickly began making plans for our second foray into northern Africa since our rushed exit in March 2020.
Parc Omega in Gatineau, Quebec
Before we could jump into international travel, Christina took it upon herself to help me celebrate my birthday at a place that we had both been wanting to visit for ages. Parc Omega is a wildlife park, research facility, and sanctuary in Gatineau, Quebec, about an hour from the city of Ottawa.
This vast park has a massive collection of Canadian wildlife including elk, wild boar, deer, and their signature attraction, wolves. You can even do what we did, which was stay in one of their luxurious cabins with massive windows looking out onto their wolf sanctuary. There are few things cooler than waking up in the middle of the night to a pack of wolves howling!
Paris, France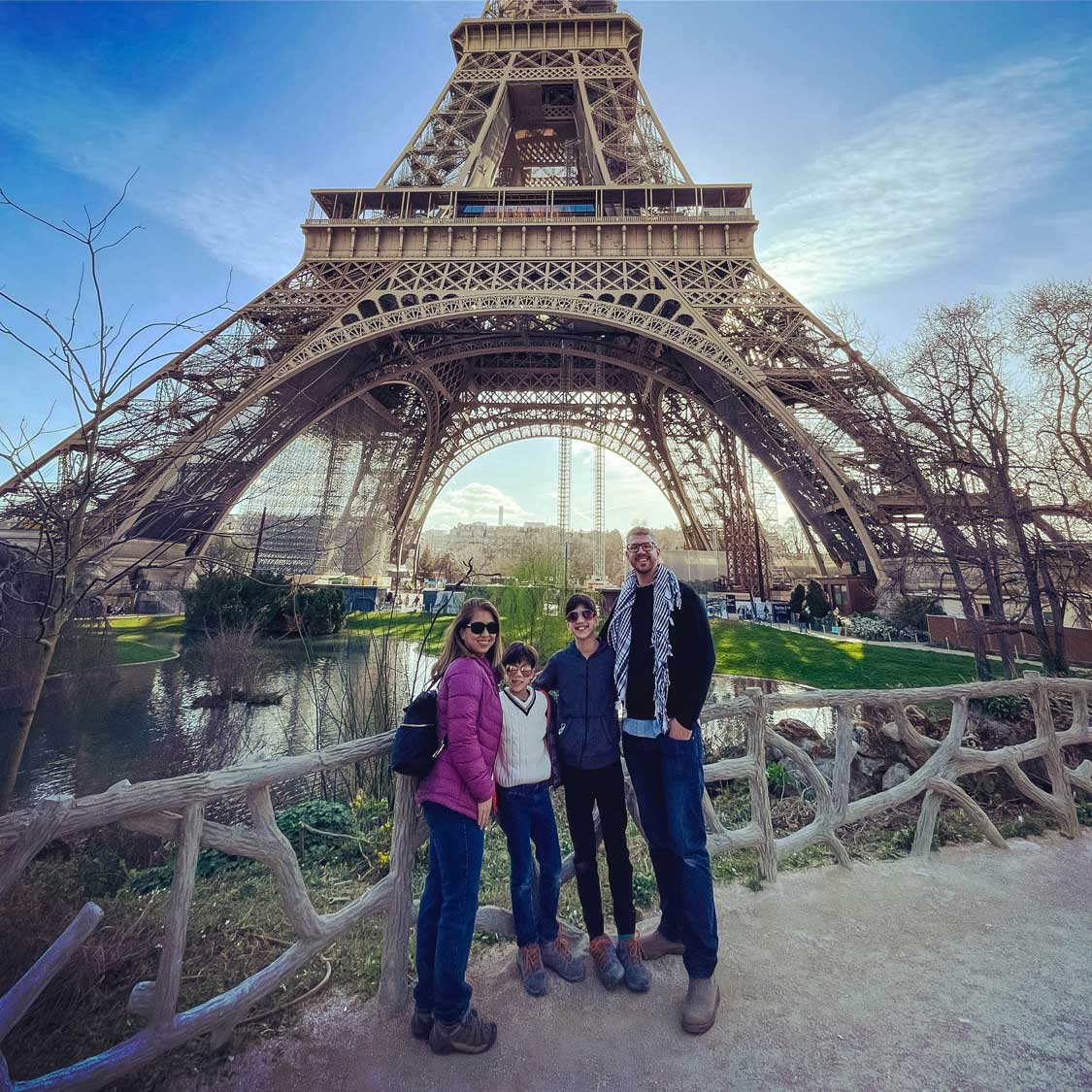 In March 2022, we were scheduled to go to Morocco for a long-delayed visit to northern Africa. Unfortunately, after a year of dodging COVID, Christina, D, and I all caught the virus and had to delay our trip by three weeks. But the delay came with a bit of a bonus. We were able to time our visit with one of Christina's conferences in Barcelona, Spain, and that meant a stopover in a city that C has been desperate to visit, Paris, France.
We would only have one day in the city, and with all the amazing ways to spend a day in Paris, guess what was top on our birthday boy's list?
Catching the Pokemon gym at the Eiffel Tower!
With all of the incredible things to do in Paris with kids, we had loads of ways to spend our day in the city. We visited the Louvre, wandered the markets, and took in the Arc de Triomphe. But as was promised, our day ended at the Eiffel Tower where the whole family took out their electronics in an attempt to conquer that Pokemon gym.
And we did it! We held it for a whole ten minutes before we were eventually forced out.
Go Wagars!
Barcelona, Spain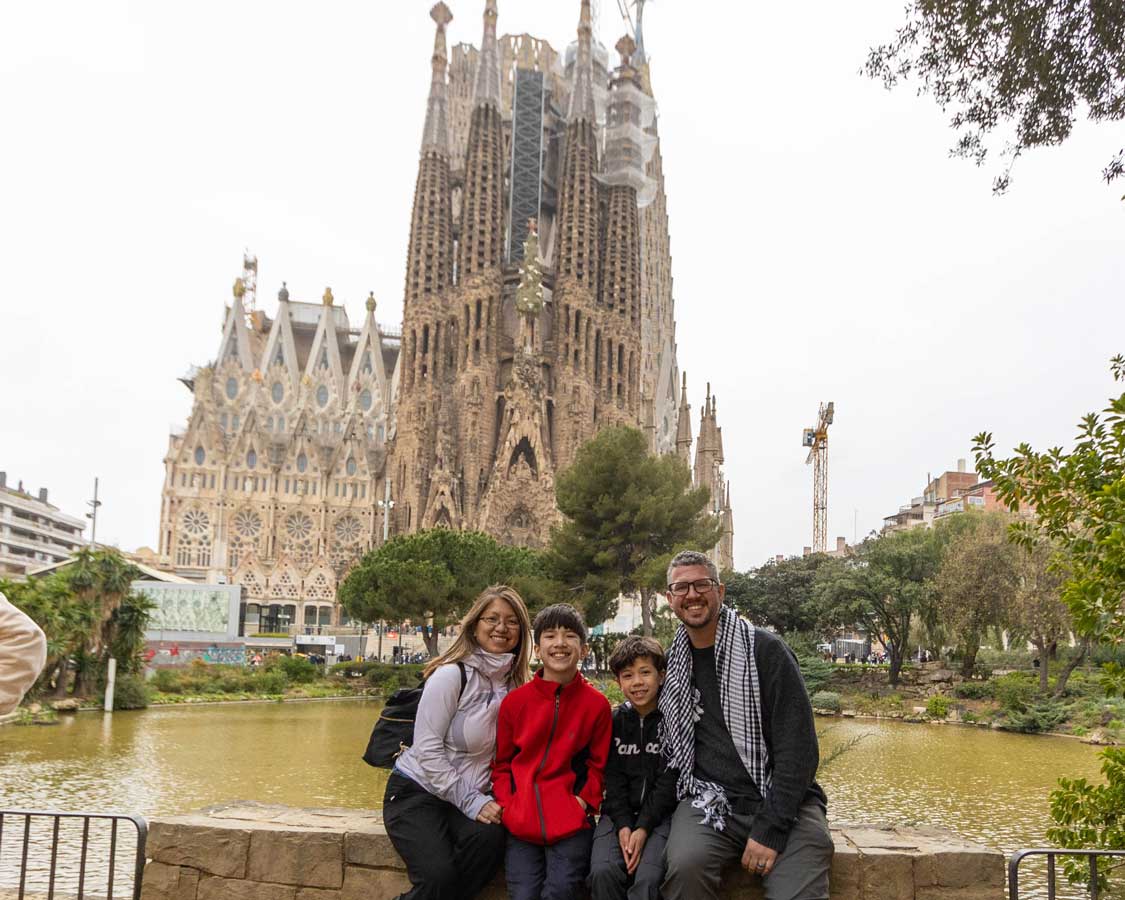 We zipped over to Barcelona, Spain from Paris for what would mark a new country for me and the boys. Christina had four days of solid conference schedule ahead of her, but the boys and I were free to roam.
We packed our days with adventures including the amazing architecture of Antoni Gaudi at Parc Guell, the Sagrada Familia, and more. We explore the monuments and fountains of Citudela Park, watched windsurfers and para surfers at the waterfront, and took in the amazing atmosphere of the city's Gothic Quarter.
One of the coolest experiences was taking the train out to Montserrate to take in the historic mountaintop monastery and enjoy the absolutely brilliant views and peaceful atmosphere of this beautiful place.
Morocco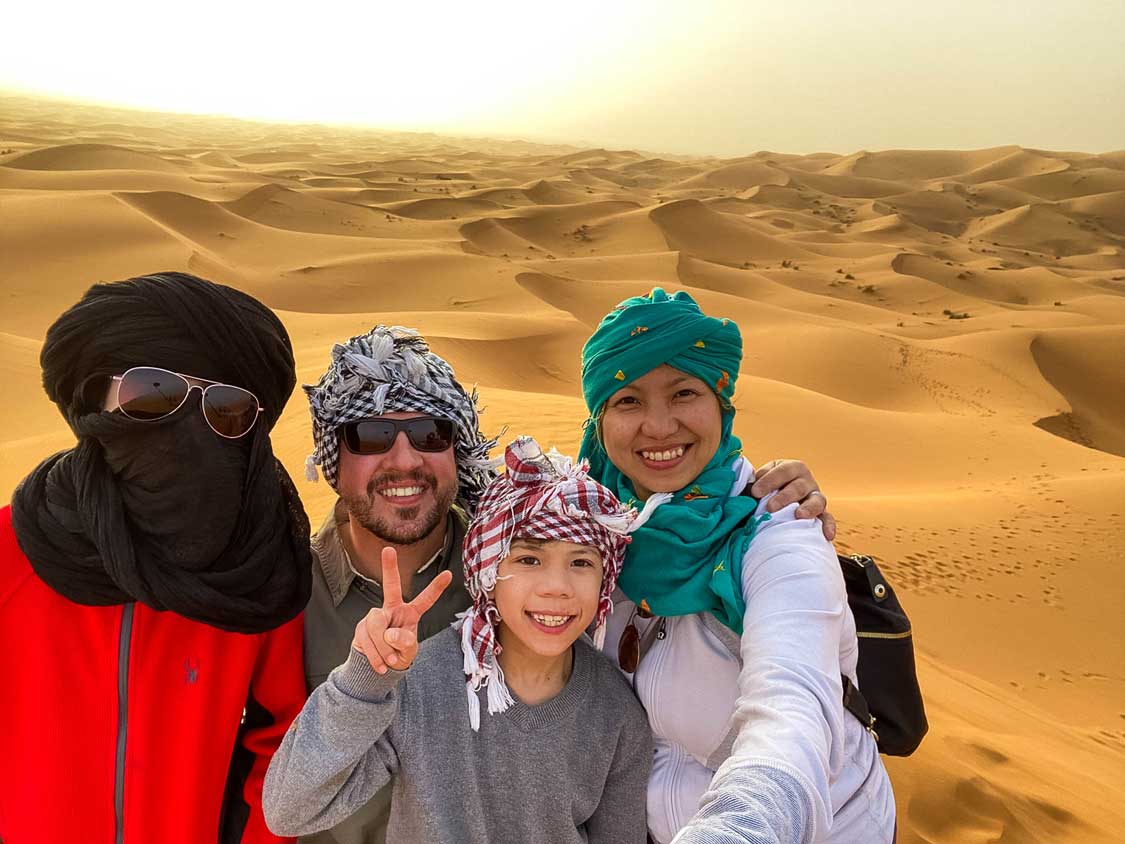 We flew straight from Barcelona to Casablanca, Morocco where we made the most of our ten-day Morocco itinerary. We explored the amazing cities of Rabat and Fes before making our way across the Atlas Mountains for some adventures in the Sahara Desert.
After a few days spent quad-biking, riding camels, glamping in the desert, and eating Berber Pizza, we completely fell in love with the region.
From the adventures of Merzouga, we made our way through the arid west of Morocco through Africa's "Hollywood" in Ouarzazate and then on through the Todra Gorge to the village of Skoura, the gateway to the Atlas Mountains. It was here that we got to live our dream of hiking the Atlas Mountains.
Finally, we made our way to Marrakech for a cooking class and to experience the legendary Marrakesh night market before making our way back home.
Rochester, New York
In May we were invited across the border by Visit Rochester for a long weekend of excitement. Rochester is a city that we've passed through quite a number of times on our road trips down to New York City and the Adirondacks region, but it's not a place that we've ever taken the time to explore.
I'm so happy that we did because the city was absolutely awesome. We spent three days visiting planetariums, living history museums, exploring some of the city's most important historical figures (to whom everyone in the United States owes a debt), and eating at some absolutely epic restaurants.
The boys and I love having jam sessions at home (C plays guitar, D plays drums, and I mess around with both), so visiting Rochester's awesome record stores and the world's largest guitar store was a pretty awesome experience as well.
You can read all about our time in Rochester here.
Nova Scotia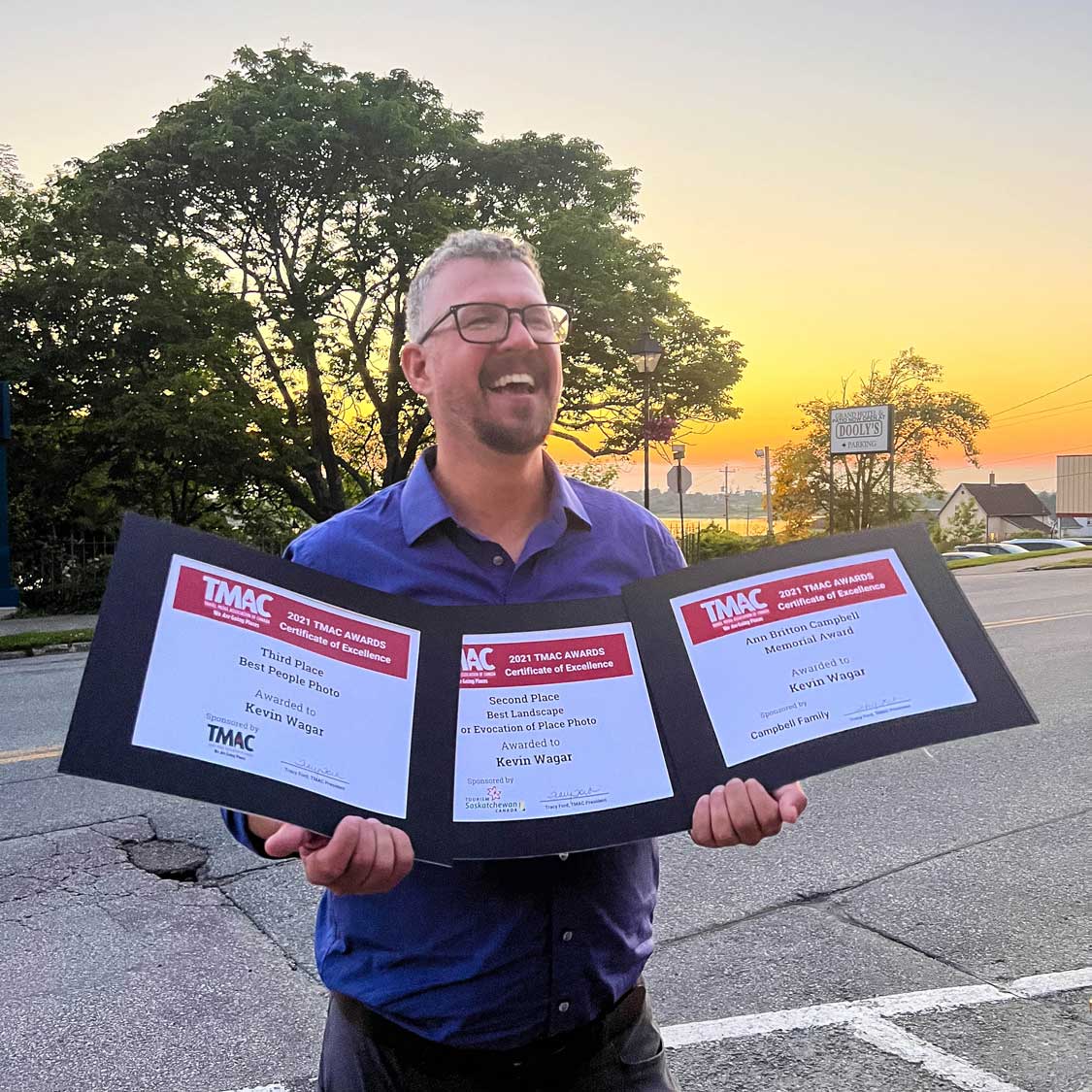 During the boys' last week of school, I made the drive to Yarmouth, Nova Scotia for the annual Travel Media Association of Canada conference. Along with seeing some of my awesome colleagues and friends in the Canadian travel industry, I also got the chance to explore some of the rarely-visited towns and attractions on Nova Scotia's Acadian shores.
After the conference ended, I made a drive along the province's "Lighthouse Route" which includes one of the most famous sites in the country, the majestic Peggy's Cove Lighthouse.
Christina and the boys flew in to meet me in Halifax where we spent a few days exploring and eating our way through the city. We even had a chance to spend Canada Day at the incredible Halifax Citadel. And then we got to work road-tripping through Canada's East Coast.
New Brunswick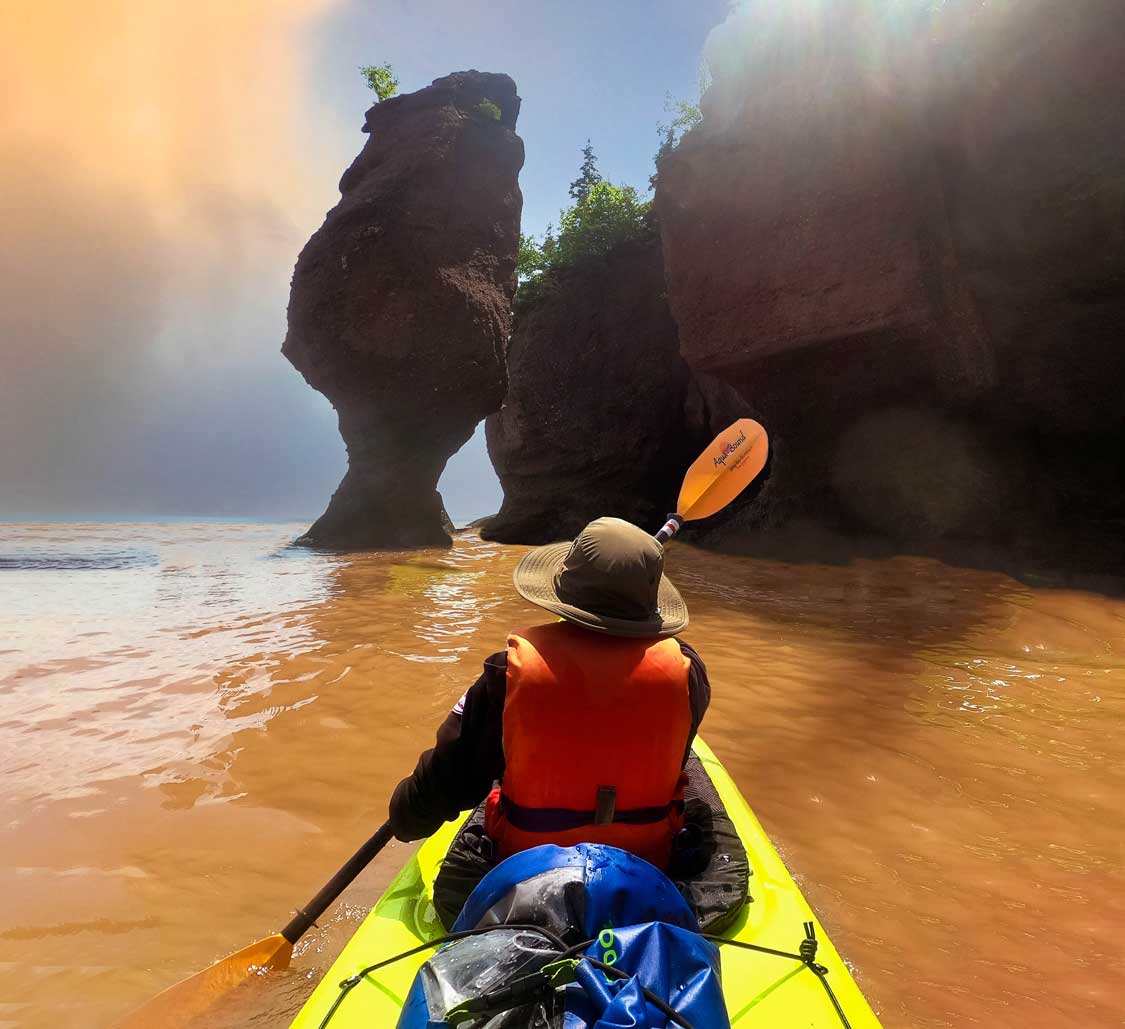 After spending a few days in Halifax, we were invited by Explore New Brunswick to … well, explore New Brunswick.
We road-tripped through the province, checking out the city of Moncton, the incredible Hopewell Rocks Provincial Park, the city of Saint John, and the city of Fredericton. And after having fishing trips canceled in Egypt, Ontario, San Diego, and Quebec, we confirmed that our fish-loving son C definitely has a curse. Our epic shark fishing expedition (where we would be catching sharks, tagging them for science, and then releasing them back into the wild) which we had planned to undertake with Island Quest Marine, had been canceled due to bad weather.
As usual, though, we made the most of it and had some extra time to explore Fredericton, including some awesome canoe adventures and some great food.
Quebec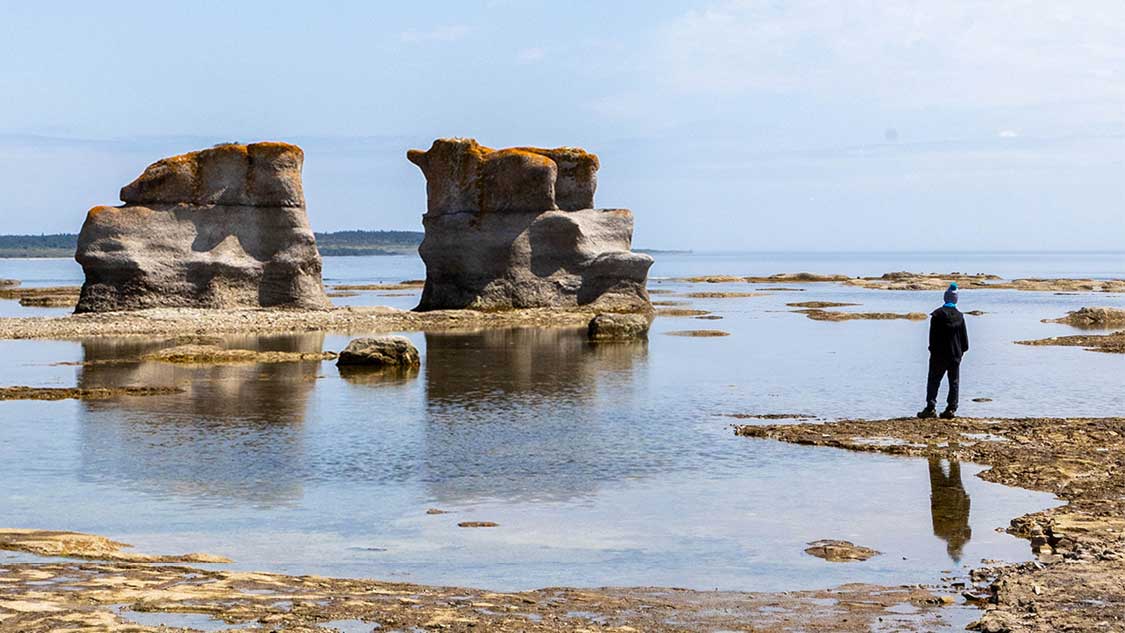 Quebec sits right next door to our home in Ontario, so it's a province that we explore quite a bit. But coming to the province from the opposite side after our travels through New Brunswick, we had the opportunity to visit some of the most amazing and least explored sections of the province.
Our first stop was Gaspesie National Park. This gorgeous park is nestled in the northern reaches of the Appalachian Mountains. We spent three days hiking, exploring waterfalls, and eating amazing food at the beautiful Gite Mont Albert, right in the park.
From there we made our way along the banks of the St. Lawrence River, visiting the Exploramer research facility in Saint-Ann-des-Monts before making our way across and up to Havre St. Pierre.
Havre St. Pierre is one of the most magnificent places to visit in all of Canada. The town sits on the edge of the Gulf of St. Lawrence and has dozens of islands boasting one of the most unique and beautiful landscapes in the country. It's a trek to get here, but it's worth the effort for those who make it.
After leaving Havre St. Pierre we headed back to more familiar pastures in Quebec. We met some good friends for a whale-watching cruise in the town of Tadoussac and then drove to Saguenay Lac-St-Jean for some hiking, tree-top trekking, and cave exploration.
Our last stop was the majestic train journey dubbed "Le Train de Charlevoix." We journeyed from Quebec City to La Malbaie, where we spent two nights at the beautiful Fairmont Manoir Richelieu for a few days of relaxation among the mountains. On our return journey, we made a brief stop in the village of Baie St. Paul before arriving back in Quebec City and making the drive back home to Ontario.
Northern Ontario
We had an entire 12 hours at home before setting out on our next adventure, a 6-day road trip through Northern Ontario in partnership with Ontario Parks.
After trading the hybrid in for our adventure-mobile, we made the long drive up to Kap Kig Iwan Provincial Park to begin our journey along the "Boreal Route." This amazing road trip follows a loop between Temagami and Thunder Bay through Ontario's section of the world's largest unbroken Boreal forest.
The road trip took us from Kap Kig Iwan to Esker Lakes Provincial Park and Kettle Lake Provincial Park before making a stop in the town of Cochrane, home to Canada's only Polar Bear Habitat. After seeing the world's largest predator in the wild in Churchill, Manitoba, Cochrane was a must-stop for us.
The rest of this amazing route brought us through Fushimi Lake Provincial Park and finally on to Ivanhoe Lake Provincial Park before we reluctantly said goodbye to northern Ontario's vast nature.
San Diego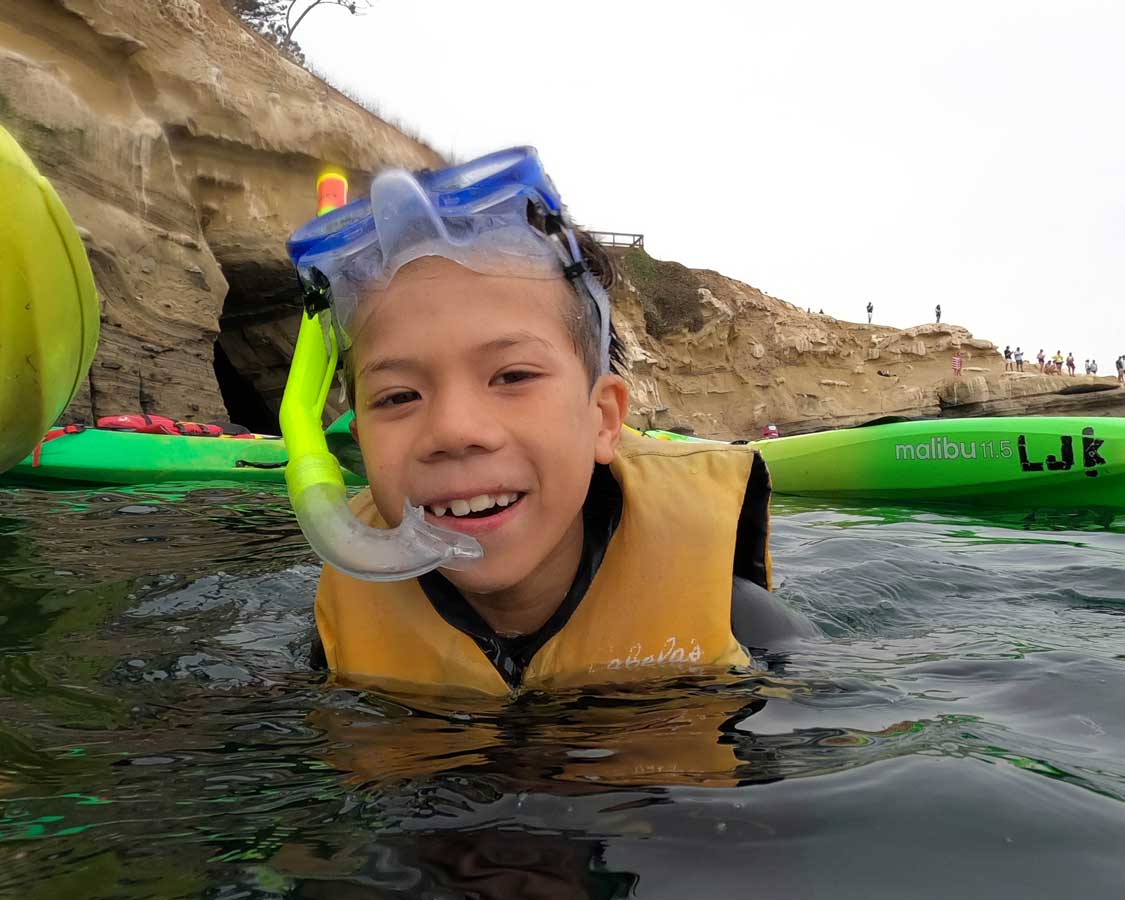 After just two days at home, it was time to head out again. This time we would be flying south to San Diego, California. Christina had another conference to attend, so the boys and I thought it would be awesome to spend a little time exploring this awesome city in the southern US.
We absolutely loved our time in the city. We did a LOT of walking, spent some time on the city's epic beaches, explored Balboa Park and the San Diego Zoo, and learned about military history aboard the USS Midway aircraft carrier.
We even got out to La Jolla for some snorkelling, cave swimming, and a visit to the former house of legendary children's author Dr. Seuss.
It was a super fun city to spend time in, and I'll be releasing an article about our adventures there soon.
Tijuana, Mexico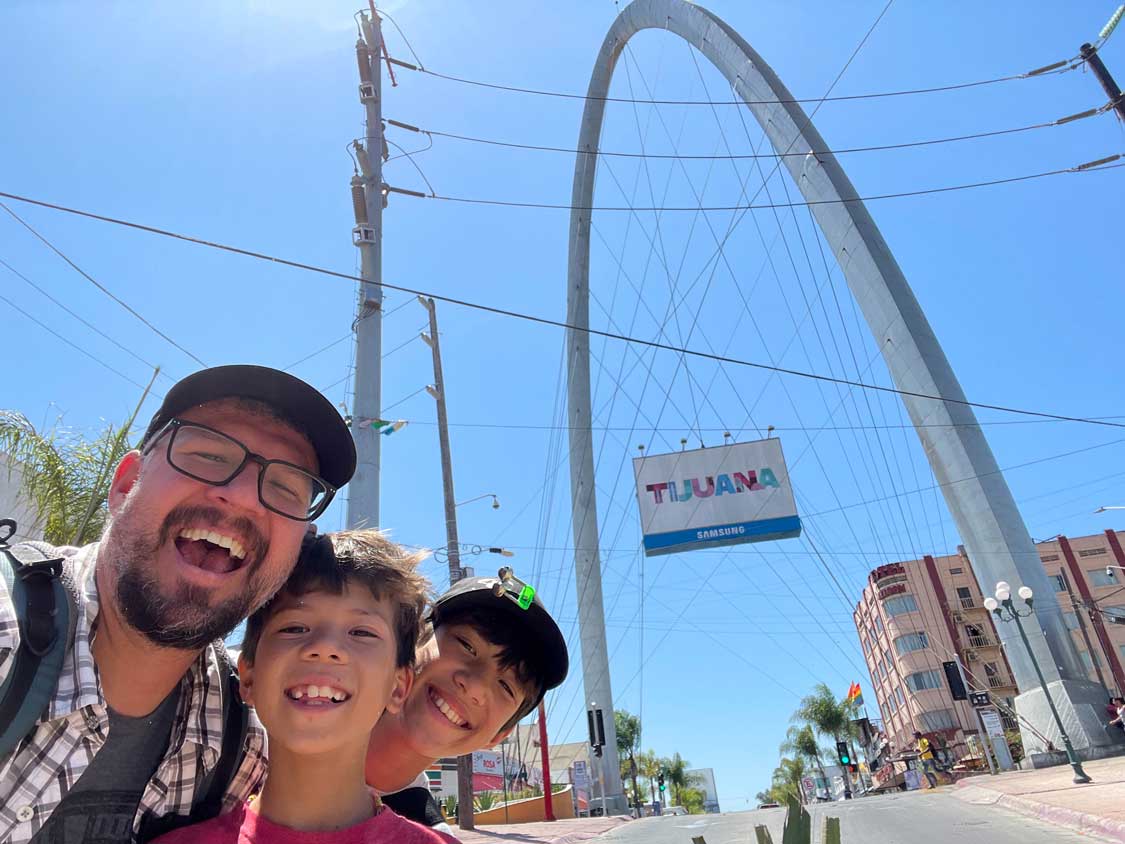 C made a trip to Mexico when we visited the Mayan Riviera when he was six months old. D, on the other hand, had never been. So while Christina was hard at work, the boys and I took the train down to the border with Tijuana so we could get a taste of border life.
Christina and I had made a similar trip almost 20 years before when she was a university student. Making the trip with kids was pretty much the same (although with less alcohol).
We spent the day wandering the streets, visiting the churches, and shopping for Lucha Libre masks for my wrestling-obsessed godson.
Toronto, Ontario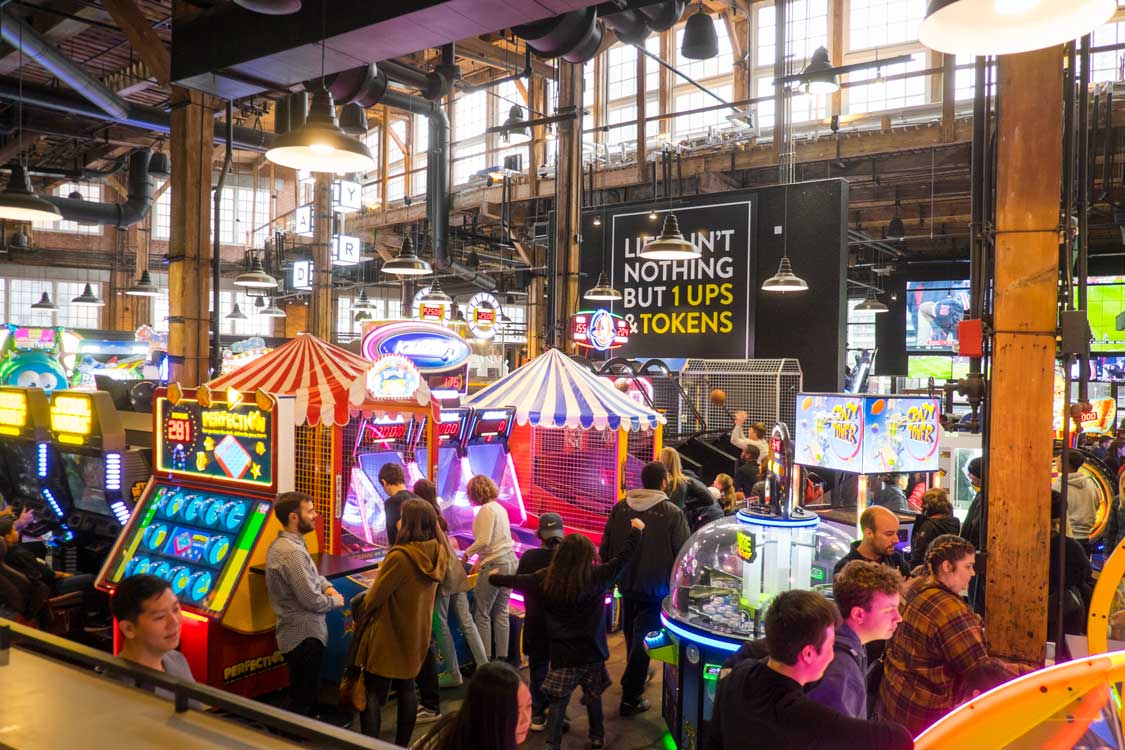 Our whirlwind summer continued just a day after returning from California when we partnered with Destination Toronto to cover some of the incredible attractions in the city for families wanting to make the most of the upcoming Labour Day.
We spent two wild days visiting the CN Tower, the Art Gallery of Ontario, Little Canada, Jump Restaurant, Ripleys Aquarium, and the Rec Room while living in luxury at the Westin Harbour Castle on the city's waterfront.
You can have a look at our guide to visiting Toronto with kids right here.
Bogota, Colombia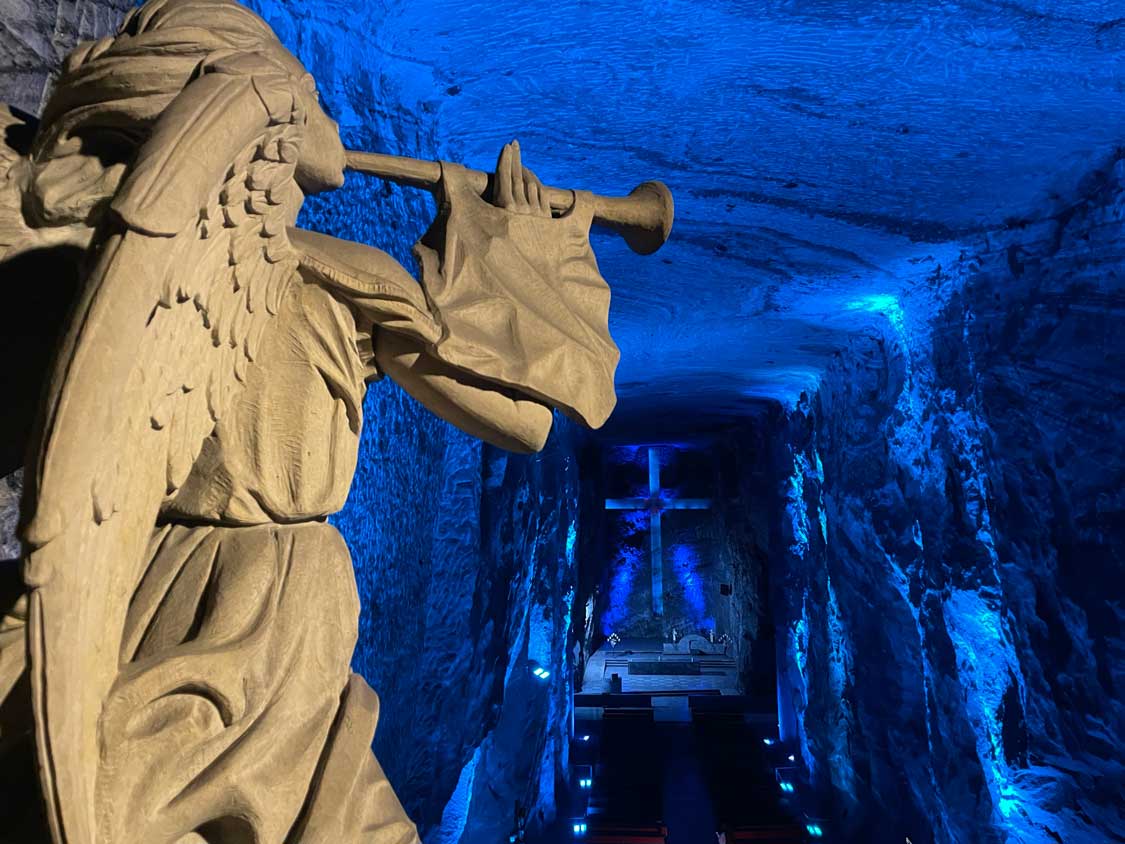 We had a quiet few weeks back home after our adventures in Toronto. The kids jumped into hockey camps, followed by rep team tryouts that swallowed up a good chunk of August and September. Add to that the first few days of school and the end-of-summer scramble, and the days went by in a blink.
Midway through the month, I made my way down to Bogota, Colombia, which the family and I had visited a few years earlier, for the Society of American Travel Writers conference. I was booked to be on a panel about Search Engine Optimization for writers looking to build up their own websites.
It was a great visit with some inspiring talks by amazing people. And I had the chance to visit a few of the awesome Bogota attractions that my family had missed during our first visit to the city including the majestic Salt Cathedral.
Thailand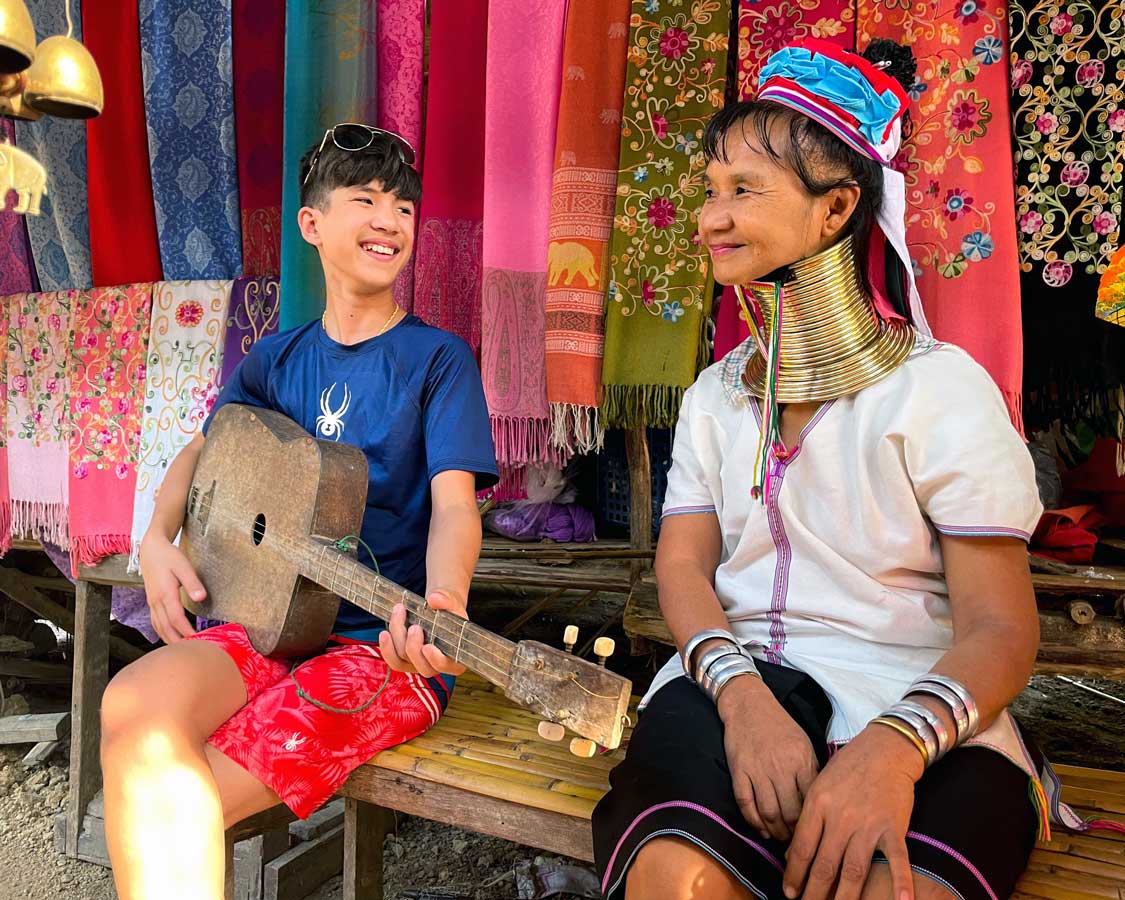 With both of our kids in rep hockey during the 2022/23 season, our schedule took a wallop. Before we knew it, we were living at the rink and the boys were on the ice six days a week. Add to this our normal school schedules, work schedules, and the boys' music classes, and we had never been so busy.
We had, previously, filled up a lot of our time with weekend adventures, and now all of that time was spent playing, planning, or practicing hockey.
So when we planned our two-and-a-half-week Thailand adventure in October, we knew that this would likely be our last big hurrah before the end of the year. So we made sure it was a big one.
We made the 21-hour flight from Toronto to Bangkok (via Seoul, Korea) and hit the ground running with some incredible tours of the country's capital region. From there, we spent a few days in a floating river lodge exploring waterfalls and tracing the history of the infamous Death Railway in Kanchanaburi.
We returned to Bangkok for a night before making our way to Ayutthaya, which had long held a place in our hearts due to the magnificent architecture of the temples and the way that nature had reclaimed some of the magnificent stonework.
Catching a flight to Chiang Mai allowed us a few days spent climbing up sticky waterfalls, being blessed by Buddhist monks in a mountaintop monastery, and visiting the resilient Karen hill tribes.
From Chiang Mai in the north, we made our way south to Khao Sok National Park where we spent a few days with the ethical eco-tour company Elephant Hills. We enjoyed a magical day meeting and feeding rescued elephants that had once worked in the country's lumber industry. Then we headed down to Cheow Lan Lake to enjoy two nights on a floating lodge deep within the flooded mountains of the park. We did a jungle hike to a mountaintop cave, kayaked under trees full of monkeys, and swam a lot to cool down from the muggy heat.
The final leg of our Thailand itinerary was spent in the ocean-side stretches of Phuket. We stayed at a resort called The Village at Coconut Island and enjoyed some relaxation and a lot of day trips exploring the famous Maya Beach and Phi Phi Islands, visiting a floating village, fishing for strange and wonderful creatures, and just enjoying a few days of fun in the sun before making the long trip back to Canada.
I now have our Thailand trip up on the blog so you can check out our Thailand Family Travel Blog here.
What We're Looking Forward To In 2023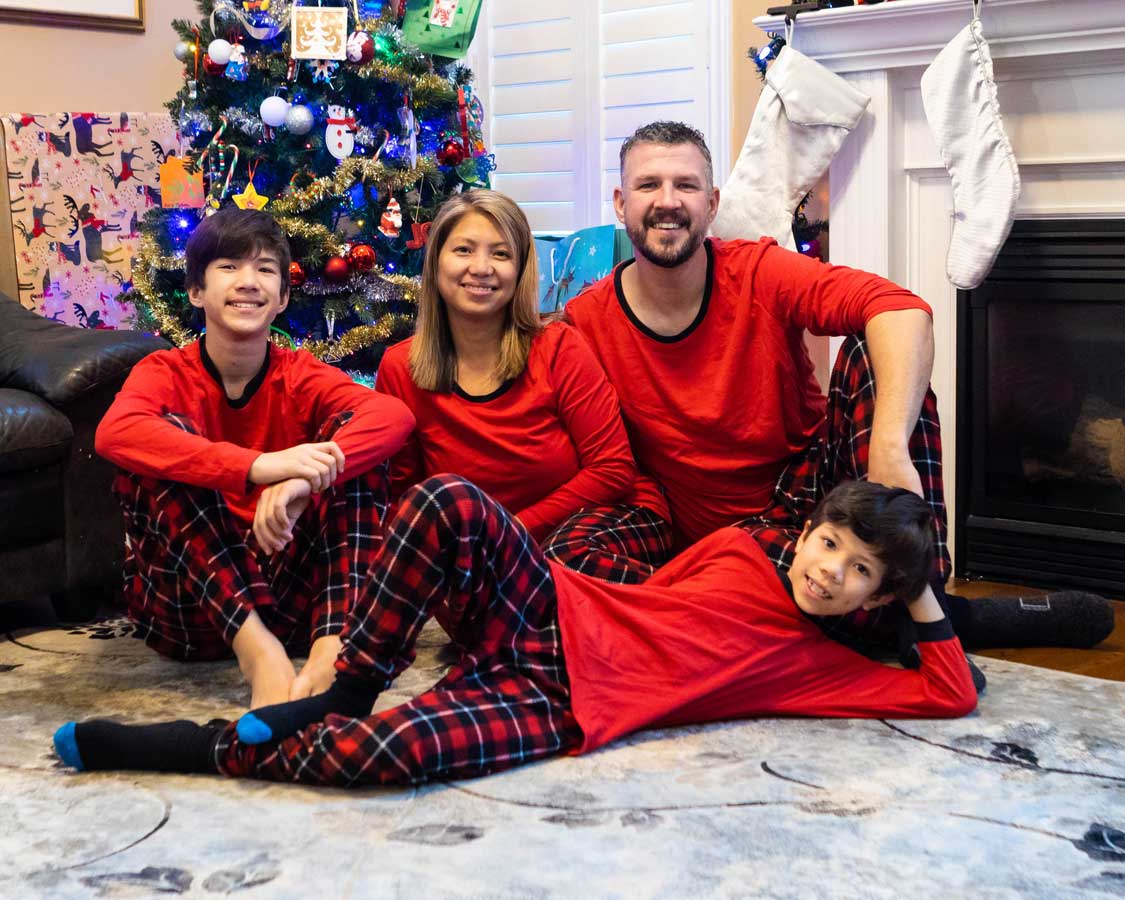 One thing that we're learning as we grow as a family is that life is an ever-evolving, ever-changing experience. We had quite a few years where access to travel experiences was easy. Christina and I relished the children's youth, sharing our passion for travel and adventure with the boys. But as we grow as a family and the boys become more and more independent and have focused passions of their own, we know that more of our time is going to be spent helping them to develop their own self-identities.
Does this mean that travel is going to take a backseat to other things?
No!
Our changing lives just means that we'll have to adapt.
Our whole family still loves travel. The boys just have other interests that they're exploring as well. This means that we all work together to find ways to help all of us get as much enjoyment out of this ride through life as we can.
In 2023 we have definite plans to visit Greece to help the boys connect deeper with their mutual love of Greek Mythology that was brought on by their ravenous reading of the Percy Jackson series. We are also hoping to get back to Egypt to finish our tour through Cairo and the Western Desert.
With any luck, our summer is going to be a thrill ride of adventure that might take us deeper into the African continent or, perhaps, back to southeast Asia.
Whatever adventures come our way, we'll be ready for them and will take them on with the typical Wagar gusto!
Please join our Family Travel Support Group on Facebook if you'd love to connect with more family travelers. It's a group of families, just like yours, who love to explore the world.